Southern Pride Reveals Improved Electric Model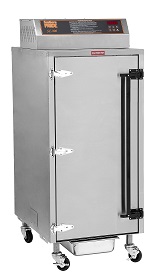 Southern Pride BBQ Pits and Smokers, the industry leader in the commercial smoker world, is pleased to introduce the newest version of their electric smoker model. The SC-300 replaces the SC-200 and DH-65 electric smokers and will be available to order June 1st, 2019.
The SC series electric smoker is known for its versatility in smoking, roasting and also serving as a holding oven. The standard SC-300 features dual woodchip boxes that are located on the left and right side of the smoker. An optional feature of the SC-300 is a steam system that replaces the right smoke element in the cabinet. The improved control allows either smoke elements, or the smoke and steam element, to be turned on or off independently. This allows the ability to select any combination of heat, smoke and steam, if applicable.
There are five, 18" x 26" racks that can be adjusted to 20 positions with the ability to add additional racks. The improved rack system accommodates full size sheet pans for extra versatility. Vertical rib racks are also available and dramatically increase the smoker's rib capacity.
The addition of panels to access wiring and the improved component assembly makes serviceability of this electric smoker easier than ever. The increased depth of the grease drain pan allows easier transportation and disposal of grease.
The SC-300's electrical requirements are 208 VAC or 240 VAC. This product is ETL Safety and Sanitation certified. This equipment must be vented in accordance with the Owner's Manual and the installation must comply with NFPA® 96 and all relevant local and national codes.
« Back to Media