Southern Pride Passes Certification for Compliant Trailers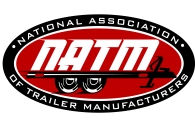 Southern Pride joined the fight to improve the safety of American roads and highways this week after passing their compliance certification with the National Association of Trailer Manufacturers (NATM). By becoming a member of NATM, Southern Pride is aligning with a determined coalition of trailer manufacturers and industry advocates that have bipartisan support in national and local levels of government. NATM has been lauded by National Highway Administrator Strickland and Federal Motor Carrier Safety Administration Administrator, Anne Ferro, for their work in the industry for their dedication and commitment to improving trailer safety.
Following revelations that unsafe, illegal trailers are sold across the United States, putting Americans at risk on roadways, NATM was founded to promote safety within the industry. Not all trailers are created equally, and by joining NATM and proudly displaying the red, white and blue NATM decal on their trailers, Southern Pride is showing consumers their trailers meet a higher standard of safety.
Southern Pride passed the NATM biennial safety compliance consultation, part of the NATM Compliance Verification Program. The compliance program, including its consultation, is based on the NATM Guidelines for Recommended Minimum Manufacturing Practices for Light-and Medium-Duty Trailers. The Guidelines are a compilation of federal safety standards and regulations, and industry best practices that govern trailer construction.
The NATM compliance program, including the on-site consultation, is available to all NATM trailer manufacturing members once the manufacturing process passes the checklist based on the Guidelines. Founded in 1987, NATM represents manufacturers that produce light and medium-duty trailers. NATM members also include suppliers to the industry. Organized to raise awareness of safety and quality in trailer manufacturing, NATM works to improve the trailer industry through the promotion of compliance with its Guidelines. The association currently has more than 700 members worldwide.
« Back to Media